About
Introduction
Spell Waves is a project for Advanced Graphics and Interaction 2019 at KTH. It's a fun interactive VR experience that anyone can play regardless of previous gaming experience. The player uses their hand controller to draw symbols in free-air which cast different spells. For example, the player can use spells to teleport themselves, polymorph objects into different shapes or summon a tornado. The player also has access to a spellbook which automatically writes down any new spells that the player discovers.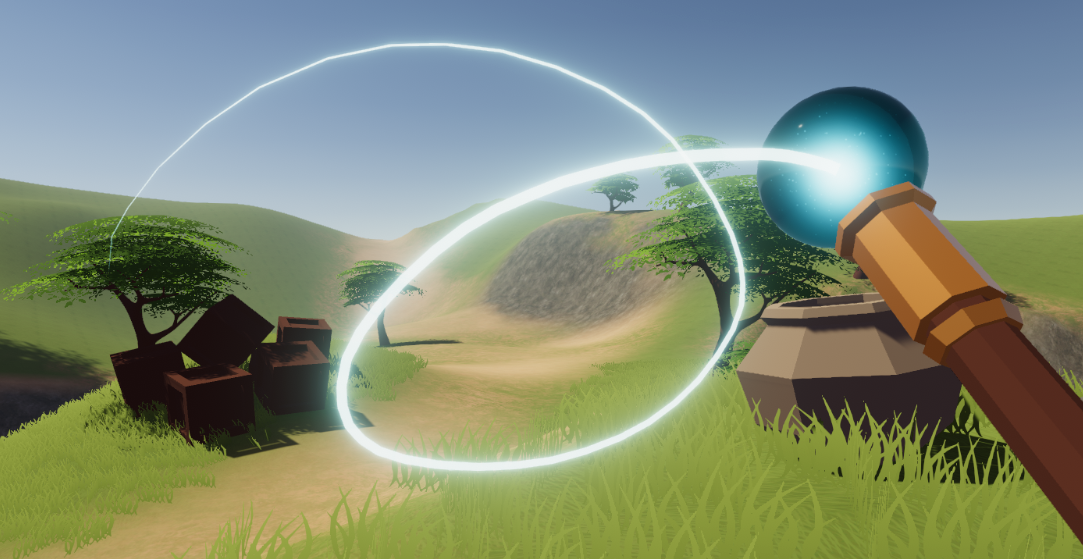 Project Goals
The main goal of this project has been to explore gesture-based VR interaction. We have combined this with a variety of physics-based spells and added enemies and objects that these can be used against. As a result, the basic interaction mechanics are fairly intuitive even for players that have never before used VR. Additionally, we have experimented with different ways of teaching the player game mechanics by placing small bits of game information in the virtual environment and using an in-game notebook to help remember any new information.
The project has also provided an excellent context for exploring advanced graphic effects, physics interaction and video game AI programming. The graphics have been mainly focused on experimenting with particle systems, post-processing effects, 3D modelling and animation. We have attempted to implement the spellcasting functionality in a modular and extendable way which means that, from a developer perspective, it's quite easy to add new spells with a wide variety of effects. Since the project is open source it could provide a useful starting point for other developers that seek to extend the game or simply explore our approach to gesture-based VR interaction.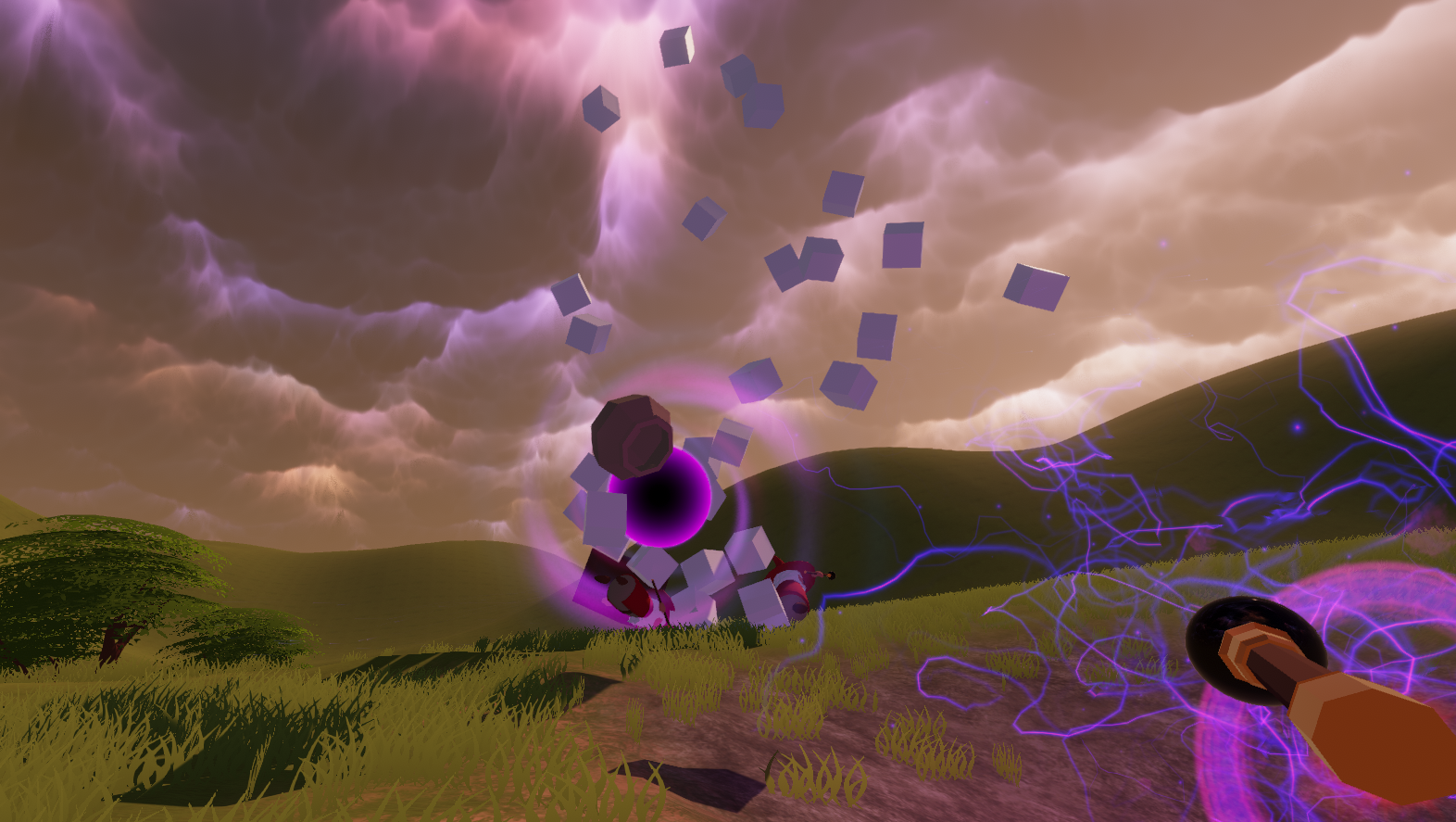 Technologies
To develop this project we have used Unity 3D as our game engine, HTC Vice for VR interaction and Blender for 3D modelling. Using Unity gave us a good starting point with basic graphics, physics and interaction functionality working out of the box. This allowed us to focus our efforts on implementing more project-specific features such as gesture recognition, spell implementations, visual effects and shaders. The Vive controllers provided excellent functionality for wand interaction, and the controller trackpad was useful for implementing page-turning for the in-game spellbook.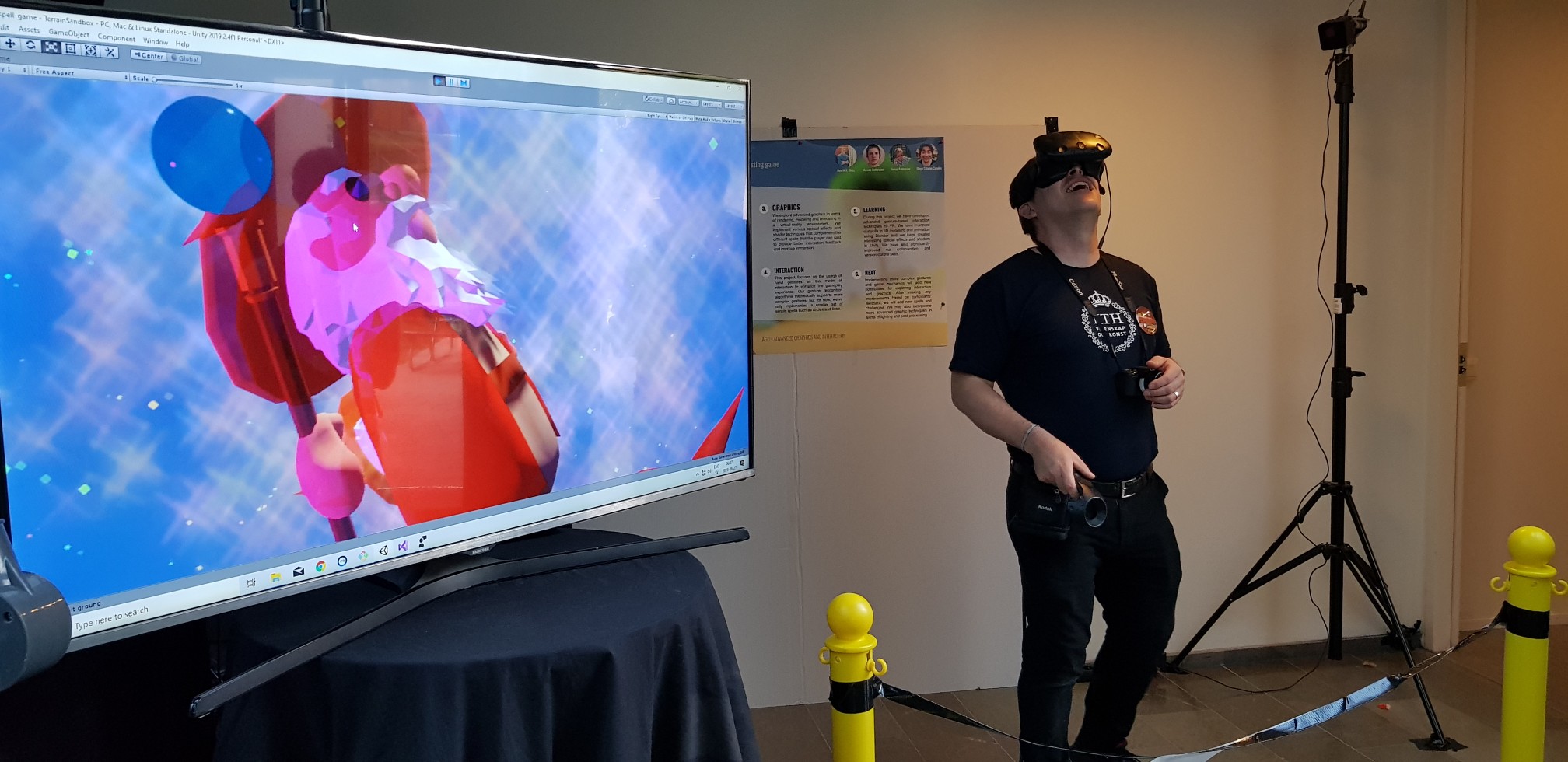 User Testimonials
I could do this for hours!
The black hole spell is really fun to use!
Oh, so that's how you aim...
- Users at the AGI demos at Tekniska Museet 2019.